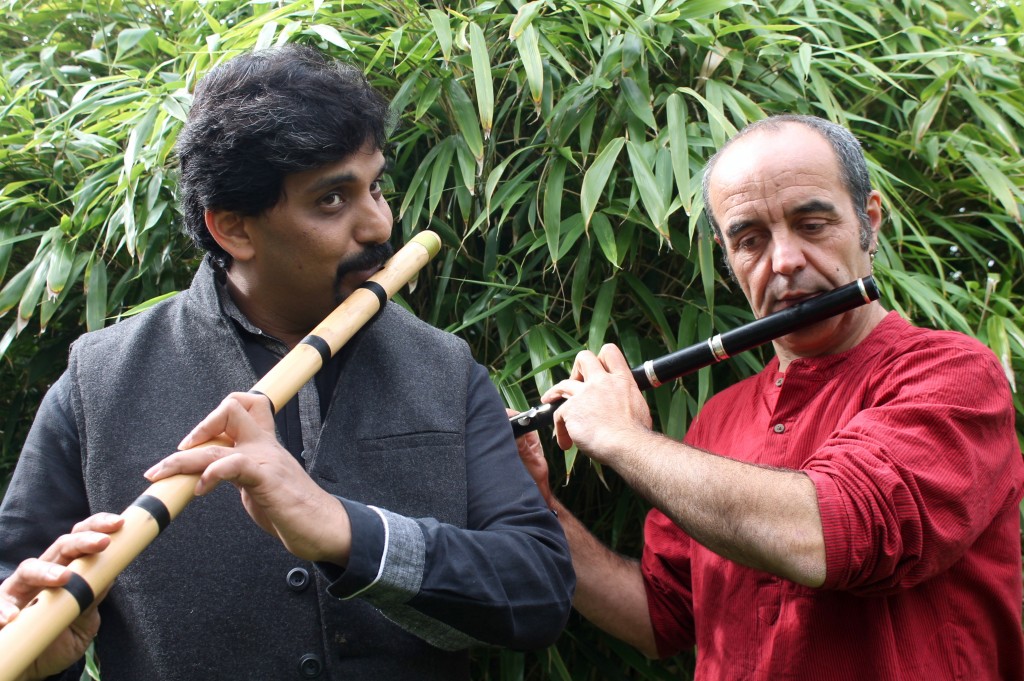 Ravichandra Kulur : Bansuri Flute Jean-Luc THOMAS : Wooden Flûte, Live Electronics
Always in search of new artistic horizons, internationally acclaimed musicians, Ravichandra Kulur and Jean-Luc Thomas first met at the «TFE Festival of Rudolstadt» for the Magic Flute concert creation. "Straight away we felt a complicity and friendship and that we should collaborate" says Jean-Luc and Ravichandra.The stage is set for a bloom of magical improvisations.
Ravichandra Kulur : Bansuri Flute Jean-Luc THOMAS : Wooden Flûte, Live Electronics
Ravichandra Kulur
Initiated into the hallowed realms of Carnatic classical music at the tender age of six, Ravichandra Kulur initially took up the South Indian percussion instruments, Ravi soon started performing flute duets with his father K Raghavendra Rao and held solo concerts when he was nine years old!
Ravi has ever since grown as an artist, carving a niche for himself in the field governed by great maestros and emerged as one of the most sought after flutists from India. His power- ful lungs, clarity of individuals notes and high-paced fingering techniques are his forte and have been widely regarded with appreciation by music-lovers and critics alike.
Ravi has been touring with legendary Pt Ravi Shankar and Anoushka Shankar since 2005, performing in great venues like Queen Elizabeth Hall, Carnegie Hall, Kennedy Center, Sydney Opera House, music festivals like WOMAD for a huge crowd etc…
Sitar legend Ravi Shankar also hailed Ravi as "Flute maestro», «Fantastic & Brilliant flautist» etc… Ravi has performed more than 1000 concerts in around 29 countires for his solo, duets, experimental jazz, Dance pro- ductions and with many legends of the music world including
Ian Anderson & Jethro Tull. One of Ravi's recent collaboration with Mr Arun Shenoy for a song called «Bliss « was exclusively
previewed and featured by Grammys.
Jean-Luc THOMAS
In 1989 Jean Luc discovers the ebony flute. Self taught flute-player, he was among the first generation of musicians to integrate this instrument into festoù- noz groups (Traditionnal Breton dance music). He per- forms now all around the world with masters of the world music and jazz (Yacouba Moumouni, Carlos Malta, Michel Godard,…).
Through practice in Brittany and numerous trips in Ire- land, he has acquired a strong technical knowledge and has developed his own style. He likes to bring people together and engaged them in an artistic and musical experience. Nowadays, he moves through rich musical environment from traditional to classical via jazz with Breton, Malian, Polish, Brazilian and Arabic musicians and dancers.
Jean-Luc is also a renowned teacher and regularly runs music workshop in Brittany and abroad. After having travelled Brittany with fest-noz groups, Jean-Luc leaves for the world roads and now can be found in Brazil, Mali, Irakian Kurdistan, Poland Ireland, Great Britain Sweden, Danmark, Germany, Niger where he is going to meet experienced musicians (Dominique Pifarely, Bojan Z, Andy Emler, Yacouba Moumouni, François Corneloup, Maré Sanogo, Abdallah Ag Oumbadougou, Kej, Carlos Malta, Michel Godard,
His interest for popular and difficult music, composing and improvising, meeting with highly skilled people, will lead him to get involved in various adventures.
Press
RAVICHANDRA KULUR
«Forceful playing was given a contemporary edge by the drifting flute work of Ravichandra Kulur….» The Guardian, UK, Saturday 7 June 2008 «….. Kulur, South Indian flutist whose pitches bent, curved and soared through the bamboo instru- ment in a dusky, breathy tone»
THE Birmingham press, Nov 10, 2007 «Watching Ravichandra Kulur on the flute, you felt music wash over you."
The Hindu, Jan 27, 2005 «Kulur played up the contrast with gliding, curling lines teasing against her staccato ones…Set off improvisations and dizzyingly fast unison passages from Ms. Shankar on sitar and Ravichandra Kulur on wooden flute. …» New York Times – Aug 31, 2007 "Ravichandra Kulur is a fantastic flutist from Bangalore." -Pt Ravi shankar, The Boston Globe, Oct 02-2005 "Ravichandra Kulurs Solos were haunting; with notes so throaty and textured they could have been coming from a clarinet" East Bay Express, San Farnsisco –May 01, 2007 «…when she invited flute player Ravichandra Kulur to join her, on a thrilling and sometimes dark journey through a raga…this was also an intelligently varied programme and the spoken percus- sion dialogue between Bose and Kulur drew sustained appreciation from the capacity crowd…» NZ Herald, Auckland, Monday Jun 23, 2008 «Anoushka along with flautist Ravi Chandra Kulur and tabla player Tanmoy Bose began with raag jog in Aaditaalam which spun into a lively repartee between the sitar, flute and tabla. Each of the musician's displayed unmistakable musical genius through the set.» The Hindu, Bangalore, Dec 03, 2008 «,..The finale also stood out, with a superb solo from Kulur…»
The Sunday Morning Herald, Sydney, June 16, 2008
JEAN-LUC THOMAS
Jean-Luc Thomas is a musician, traveler, who cultivates his land of Brittany. His work on the popu- lar music of Brittany and its confrontations towards other musical styles made of him a musician of rich and inspired playing. – France Music-»colour of the world» May, 2011
''Jean-Luc Thomas' flute was unwinding its song of freedom… a melodic wind capable to lead a whole orchestra …'' l'Echo de L'Armor et L'Argoat august 2000.
«… Jean-Luc Thomas plays with virtuosity and sensitivity,…'' Le Télégramme august 99
«…the savour of solo flute playing gives us a new taste of Breton flute.»
MUSIC LINKS
Ravichandra Kulur
1) http://www.grammy.com/news/grammycom-exclusive-first-look-arun-shenoy
2)http://www.reverbnation.com/ravikulur
3) http://www.youtube.com/watch?v=DtOFHP3RI4w ( Video Nalinakanthi)
4) http://www.youtube.com/watch?v=11K1a6x15DM ( With Shankar Mahadevan)
5) http://www.last.fm/music/Ravichandra+Kulur/_/Spanish+Fly (Spanish fly)
6) http://www.youtube.com/watch?v=2aMUKP7YmiI&list=PLBA7019B3404050F0 (Video)
7) http://www.youtube.com/watch?v=Wr6kJ0jp3RU&list=PLBA7019B3404050F0 ( Video)
8 ) http://www.youtube.com/watch?v=ed-YpkmLYgk ( Fusion Rock)
Jean-Luc Thomas
1) http://www.youtube.com/watch?v=3HtijNk6Umw
2) http://www.youtube.com/watch?v=m7-X0PLcKpI
3) http://www.youtube.com/watch?v=VVMqx3KmAj0
4) http://www.youtube.com/watch?v=jQZZBNQiVxQ
5) https://vimeo.com/18237141
6) https://vimeo.com/52086498
7) https://vimeo.com/75467683
8) https://vimeo.com/22641661
Videos

Music